The day of her wedding came, and it was time for the father-daughter dance where he proceeded to tell this story. Finally, he said, "I didn't pick a song. I wrote one." And the crowd cheers, excited for what's to come!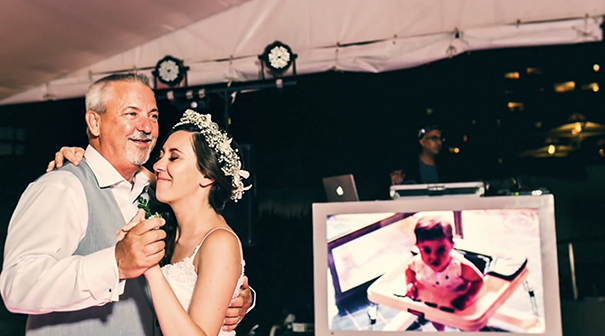 He starts off the song, picking at emotions right away.
"Where has the time gone? Where has it been?I remember when the day you were born with a full head of hair looking up at me with that inquisitive stare. You in my arms without a worry or care you stole my heart right then and there."
While they're dancing, a video of pictures of her childhood plays in the back, as you can see in the pictures. For this he sings, "It goes by so fast before you realize there's a woman standing there before your eyes."
He ends it by singing, "So now on the dance floor on your wedding day with tears in my eyes and so much more to say; this is our dance."
If you want to hear the great song by a man with a great voice (and writing skills), here's the video! Remember to like and share with friends and family!